Your Questions Answered
Naturally, families have many concerns when making the difficult decision to place a loved one with dementia into a care home. Still, one of the biggest worries for relatives is food—generating questions such as 'Will my mother be well-fed?' 'Will my husband have someone to share mealtimes with?' 'Will my friend have their nutritional needs met?' 'What if my Dad starts to lose weight?'
If there is one thing that the COVID-19 pandemic of 2020 has taught us, it's the positive difference that proactive prevention strategies and pre-arranged critical-response plans make when faced with a crisis.
To bring this to light, Leaf Care Services uses evidence-based systems and processes to maximise food-appeal and encourage our residents with dementia to eat. We always have contingency plans at the ready to further assist any individual who shows signs of not wanting to eat, not being able to eat, or who begin to lose weight. However, we can confidently say that we rarely have to fall back on them because our approach to food and its consumption follows tried and tested methods.
The Significance of an Eating Environment
Leaf Care Services has two dementia care homes, Ixworth Court in Ixworth, Suffolk, and Leaf Park in Yarmouth, Norfolk. Both Ixworth Court and Leaf Park are divided into two houses with small groups of eight residents living in each home. Each house is built to the recommended high standards and is equipped with a separate kitchen for cooking, a dining room for eating, and a lounge area for relaxing. It sounds relatively standard, doesn't it, but why is this setup so important within care homes?
The internal design and layout of our care homes are presented in a way that promotes familiarity and reduces anxiety—room layouts similar to that of a resident's previous family home.
When a person feels calm, they are more likely to eat and enjoy eating. Our people are surrounded by delicious kitchen aromas that entice them to take their seats at the kitchen or dining room table. There are sights of steaming food and sounds of chinking cutlery; this environment is critical in stimulating the senses, and it entices residents to their eating area to socialise. This setting in its entirety rouses the brain, triggering memories of dining around a table within a family home, and can increase the want to eat.
Understanding Food-based Challenges in those with Dementia
In those with dementia, the desire and ability to eat can fluctuate, consequently impacting nutritional intake and health. As the disease progresses, we know that shopping for food can become difficult, and preparing and cooking food a challenge. The condition over time can affect swallowing ability, and using knives and forks can feel uncoordinated and frustrating. Leaf Care step outside the many biomedical views that surround food consumption in those with dementia. Instead, we look closely at the benefits of food-based socialisation, how individuals communicate over food, how they relearn from each other how to use cutlery, and the impacts food-prep-involvement has on appetite. Our approach sees a noticeable uplift in food consumption, food-based enjoyment, and subsequently, quality of life.
When a person with dementia regularly dines with carers, friends, or family, hunger and the need to eat is sophisticatedly managed. The person with dementia is not only eating to satisfy hunger but also to socially engage, these two experiences then become positively interlinked, and we notice an increase in both the amount and the variety of food which is consumed and an increase in time spent at the table. Improved food consumption can often enhance our residents' mood, and with a better frame of mind comes a desire to eat.
Encouraging food consumption
Whatever an individual's stage of dementia, sitting with others while eating can help remind them how to eat. With the right approach, there is often a reduced need for a carer or family member to hand-feed their person with dementia. Here we provide a list of critical factors that encourage stable eating among those with the disease:
Eating in calm, familiar environments—settings that are similar to a family home environment
Receiving support from carers
Sharing eating experiences with other residents, carers, family, and friends
Engaging in food preparation in the same place that food will be served
Inclusion in setting the table
Access to the kitchen to smell the food cooking
Visual stimulation—being able to see the food heating or steaming
Hearing the chinking of cutlery, plates, and saucepans
Involvement in clearing the table
Where dietary needs are concerned, Leaf can support residents with requirements such as a diabetic, coeliac, lactose-free, or a fortified diet. Residents are weighed weekly, and weighing information is recorded to ensure we can make necessary referrals that address weight-loss.
We ensure that residents have adequate nutrition and hydration by:
Regularly offering fluids
Presenting palatable water (fresh and cold)
Providing plenty of food choice
Offering balanced meals
Giving care and support during mealtime as required
Making sure that adequate care plans are in place
Weekly weight monitoring
Making supplements available
Offering occasional seats in our restaurant where food is cooked and served by our in-house chef—presenting variation in eating location an environment
This wonderful picture of some of our residents and a supporting carer dressed in red beautifully depicts a passage from our recent blog, titled People-centered Living.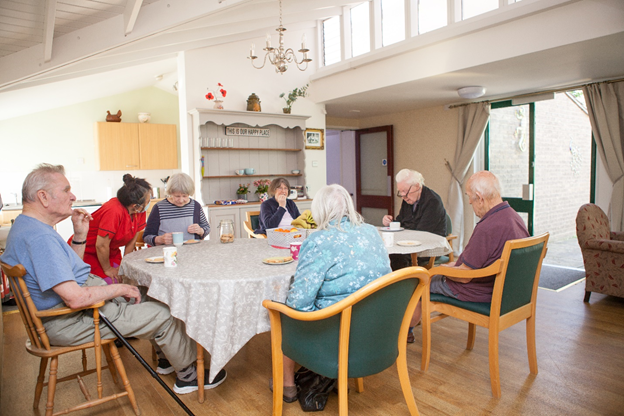 In part, the blog celebrates food and acknowledges the significance of an eating environment and unvarying socialisation. The excerpt reads: 'It is a cozy Autumnal evening; our residents are assisted by staff as they pour their tea. As they munch into the afternoons home bakes, biscuit crumbs fall to the floor, and a web-spinning spider in the windows-arch becomes this evening's conversational topic. There is chat, laughter, warmth, and there are smiles. The crumbs will be swept, and the cobweb cleared. This scene is the epitome of safe, supported, authentic living'.
As Christmas 2020 approaches, we remember with fondness 2019s Christmas Dinner event at Ixworth Court Dementia Village. The daughter of one of our residents shared that 'it was the first time in 20 years that she had been able to sit down and enjoy a meal with her Mum', while Peggy, one of our residents, told us, 'I enjoyed the meal,' and Edith shared, 'I enjoyed a glass of wine'.
We recognise that Christmas 2020 will be different for most and challenging for many. We encourage you to stay close to your loved ones and will do all we can to support you during this difficult time. Visits are currently restricted to one nominated person per resident and are subject to COVID-19 testing and Visitors Risk Assessments. To arrange visits, please email us at hi@leafdementiavillages.co.uk, and we will provide further guidance.
*You can still call via FaceTime, WhatsApp, and using a standard telephone, and can still access your loved one's records via Care Control.
Keep your independence, call today: